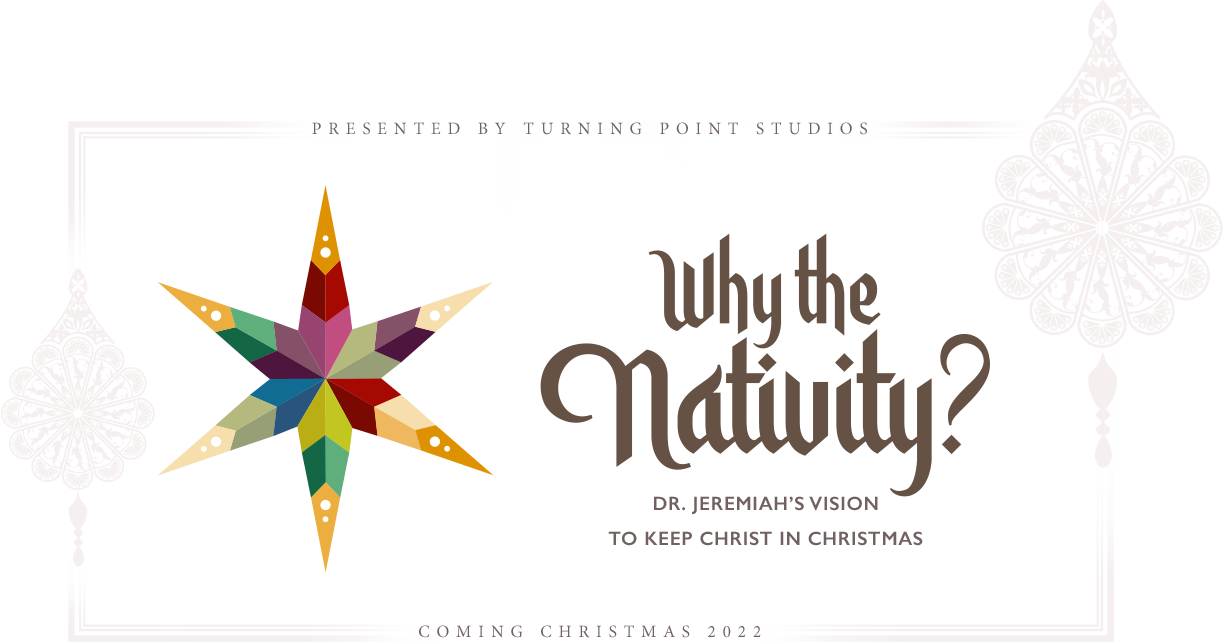 Prayer Guide
Whether you have followed the production of Why the Nativity? from day one or are just learning about it now, we want to share the journey with you as this production begins to take life with the launch of filming.
In the following prayer guide, you will find:
Insights into the scenes being filmed each day
The historical and biblical context behind the scenes
Highlights of the cast and crew
Specific prayer points for the project
Welcome to Bethlehem!
What We Are Filming:
We encounter the Chinese entourage several times during their journey from the Far East to Bethlehem. We introduce King Yu, who reads stars at night. The entourage prepares for their travels ahead, embarking on their journey. The leaders check their course with the Bethlehem Star, breaking for a morning routine of qigong, and the king prepares himself to see young Jesus.
Historical Background:
The Silk Road was an ancient trade route that linked China to Rome. Chinese merchants often traded silk for western goods such as wool, gold, and silver. The Silk Road is also known for enhancing the economic, cultural, political, and religious interactions between eastern and western civilizations during the Roman Empire.
Prayer Request:
Dr. David Jeremiah is the founder and CEO of Turning Point and executive producer of Why the Nativity? Not only is he responsible for the vision and content behind the production, but he is also narrating the film. Pray for Dr. Jeremiah and for Why the Nativity? to reach countless people around the world this Christmas season and for years to come.
Download the Complete Prayer Guide Download a complete PDF and join us in prayer as production begins for Why the Nativity?
Download PDF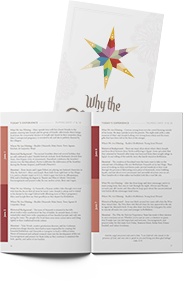 First Look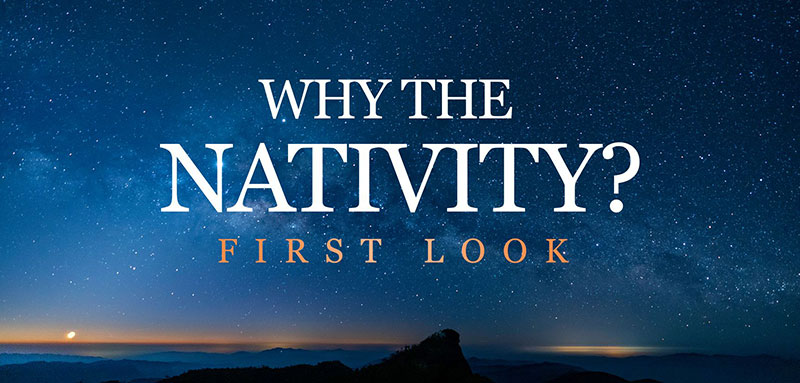 The story of Christmas was never meant to be a celebration just for Christians. God intended it for everyone! Turning Point is committed to making the biblical, God-honoring narrative of our Savior's birth fresh and inviting for audiences from all walks of life. Take a look behind the scenes and meet some of the industry professionals helping us make Why the Nativity? a world-class production.
The Biggest Media Project in Turning Point's Ministry: Bible Teacher Dr. David Jeremiah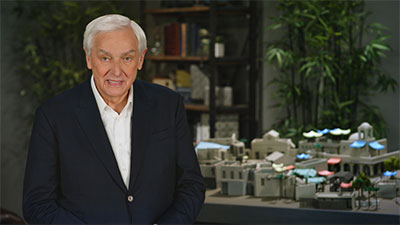 Dr. David Jeremiah talks about the origins of his book Why the Nativity? and how the idea of taking these foundational truths and wrapping them into a spectacular cinematic production developed years later. Watch as Dr. Jeremiah shares his perspective of the passion and strategic importance behind portraying the Bethlehem story with historical accuracy for audiences around the world.
The Creative Vision: Creative Director and Executive Producer Paul Joiner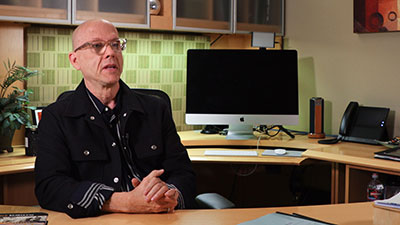 From sourcing goats and chickens to constructing massive sets, the production process for a film is markedly different from producing weekly television. Hear from Paul as he describes the unique opportunities and challenges involved with creating a cohesive, faithful reenactment of Christ's birth that includes just enough unexpected elements to captivate a diverse audience with the greatest love story ever told.
Designing Bethlehem: Concept Designer Douglas Rogers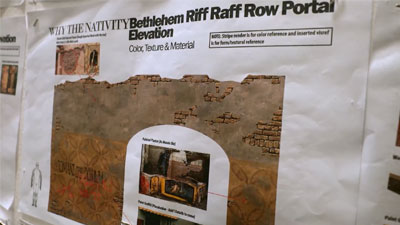 With experience designing historical shows and theme parks, our concept designer shares his excitement for working with first-century Judean architecture to make this film. In this interview, Douglas describes the research, artistry, and elements involved with paying homage to the architecture of ancient Bethlehem and Nazareth. He even offers historical insights into the story of the paralytic man who was lowered through a roof in Luke 5:19!
Building Bethlehem: Art Director and Lead Sculptor Morgan Lee Richardson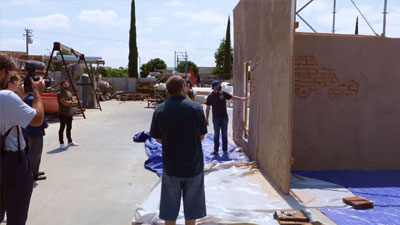 Recreating Bethlehem with the creative intent and authenticity demanded by this film requires tremendous attention to historical detail. Catch glimpses of the structural elements of our backlot set as Morgan describes how his background as a sculptor and artisan is guiding the development of our period-correct backlot set for Why the Nativity?
A Costume Speaks Volumes: Costume Designer Denitsa Bliznakova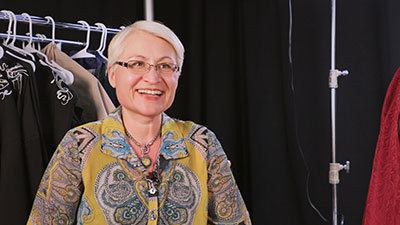 Denitsa Bliznakova is an award-winning costume designer who has designed apparel elements for more than sixty theatre, opera, and film productions. She and her team are currently developing more than two hundred costumes for our extensive cast of actors. Watch as Denitsa describes her process for researching and procuring costumes that showcase the set and period of this well-known story without overshadowing the film's message.
Music Brings a Film to Life: Composer Don Harper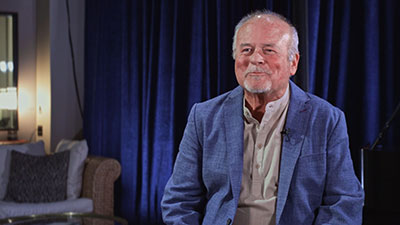 Showcasing the most pivotal moment in history, the birth of Jesus Christ, requires an extraordinary soundtrack. And we are honored to introduce Don Harper, our award-winning, world-renown composer for Why the Nativity? In this interview, Don describes his creative process and the role of a film score in enhancing emotion and inviting the viewer to become fully immersed in the story.
The Chosen Parents of the Messiah: Lead Actors Rose Anaya and Logan Polson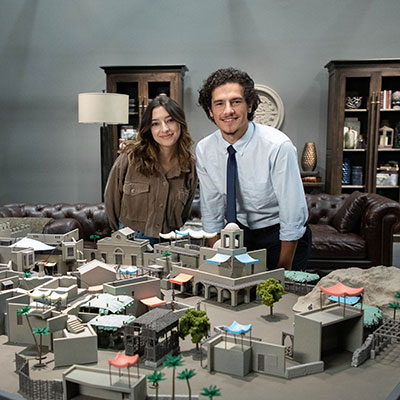 Casting the roles of Jesus' earthly parents presented unique challenges. The actors needed to be young enough to fit the historical narrative while filling leading roles with skill and maturity. Allow us to introduce Rose and Logan, who will soon be known as Mary and Joseph. One of our favorite aspects of this docudrama will be highlighting some creative nuances between the young couple as they navigate their love, faith, and call from God.
Concept artwork depicting the Roman Census
July 1 Updates
Fundraising Update
Producing a Hollywood-level film is no small task. It requires months of planning, a cadre of industry professionals, and substantial up-front costs. With a budget of $2 million for set design, fabrication, and construction—not including other production and broadcast costs, Why the Nativity will be the most expensive outreach Turning Point has ever produced. Even so, we have counted the cost and believe it is not too a high a price to pay for reaching millions of viewers with the true meaning of Christmas.
The bulk of our production costs must be paid by the end of July. But thanks to the incredible generosity of friends like you, we have already raised $1 million—we're halfway to our goal! Your generous support will deliver the story of Jesus to homes around the world through television and Internet streaming.
Production Update
Director of Photography: In early June, we hired a "DP" who will work closely with our in-house production team to orchestrate each shot for maximum impact. He and our production team are currently selecting the best digital camera for award-winning production, based on test footage our team shot with RED and ARRI cameras. For the past few years, ARRI has been highly regarded in the industry with their cameras accounting for more than twenty Oscar-nominated films in 2021 and about thirty films in 2020. RED offers an impressive resume as well, having shot several Oscar-nominated films dating back to 2011. Beyond selecting the camera, our DP will also hand select a range of lenses, deciding between spherical and anamorphic. These technical decisions, made in conjunction with the executive producer, will contribute to the stylistic presentation of Why the Nativity.
Script Update
The script is in its fifth revision or "green revision," as it's known in the industry. (The Writer's Guild of America West identifies each script revision by color. There are nine generally accepted color codes, but most scripts have fewer than seven revisions.) See snippets of the Production Team's first read through the script on Turning Point Studios' Instagram or Facebook group.
Construction Update
With our set design finalized, we have hired a team to create a miniature model of the Bethlehem backlot set. Initially, this scale-replica will guide our construction team as they build the set. Once the project is complete, the model will be displayed in our studio at Turning Point's headquarters.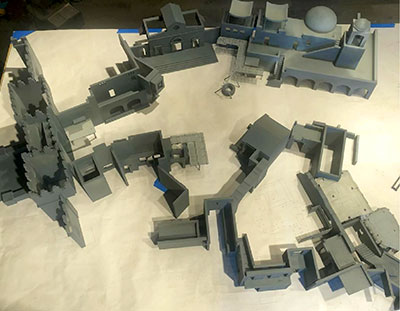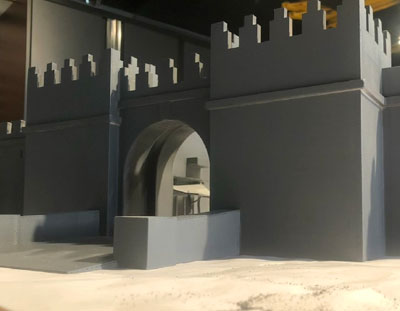 We are working with contacts throughout Southern California to procure sheep, camels, donkeys, horses, chickens, goats, and other livestock.
At one of our site meetings, the animals had a lot to say—so much so that they drowned out the Producer as he led the meeting!
June 11 Updates
Production Update
Our storyboard artist has fully developed the boards for Joseph and Mary's early life. Hear our Executive Producer, Paul Joiner, talk about the importance of storyboards and planning on Turning Point Studios' exclusive Instagram account.
Casting Update
Hundreds of actors have responded to our casting call and submitted auditions. At this time, the Casting Director has made selections for more than 100% of the 67 named characters in the script. Join Turning Point Studios' exclusive Facebook group to take a peek at a couple of the nuanced characters.
Our Wardrobe Designer is securing more than 265 costumes plus accessories.
Construction Update
COVID-19-related supply-chain disruptions have caused steep spikes in the cost of materials. Wood prices have increased 400%! As a result, we are following the lead of larger studios by decreasing the scale of our set facades, sourcing alternate materials, and shooting at several strategic locations to minimize the number of facades required.
Wildfires are common in San Diego, particularly in the county's large backcountry where our set is located. But God began preparing a path well in advance. The key fire executive who needed to sign off on our project is well acquainted with Turning Point and expressed excitement about Why the Nativity. Our backlot set plans sailed through the fire permit process quicker than we dared to hope! From installing smoke detectors to evacuation plans to piping in water supply lines, we continue to work closely with local fire officials to ensure safety on the set.

Updated Set Layout Concept Art

Several seasoned industry professionals are coming out of retirement to be involved with Why the Nativity.
Many of our consultants and industry professionals have cut their customary rates for this project because they believe in the message of Why the Nativity.
The summer and fall months are typically a busy time at Turning Point. Beyond our usual radio and TV broadcasts, we're often preparing for the fall's Turning Point Live events. Why the Nativity is stretching our staff and resources, but we're up the challenge. With the Lord's blessing and your strong support, we can produce a docudrama that will reach millions of souls with the Gospel—all while remaining faithful to our core ministry. Thank you for partnering with us!
Follow Turning Point Studios on Facebook for the latest updates.
Follow Turning Point Studios on Instagram for the latest updates.
About the Project
You're probably not thinking about Christmas just yet—
But the Turning Point team and I are working on something BIG for Christmas 2021—and I couldn't wait to share it with you.
As you may know, we have successfully produced several Broadway Christmas specials in recent years. The last one, alone, has reached 9.5 million people with the Gospel!
Sadly, the continuing restrictions of COVID-19 have made the production of a 2021 Broadway spectacular extremely questionable. So we are determined to take this moment of uncertainty to deliver the unchanging Word of God to an ever-changing world in a groundbreaking way!
And God has faithfully provided a strategy to do exactly this—by producing a cinematic-quality, family tradition-level Christmas special:
Why the Nativity?
We will travel back in time to experience the sights and sounds of the very first Christmas in Bethlehem, built and filmed on our own backlot here in San Diego.
Site of the Future Bethlehem Set
from the First Look Producer's Notes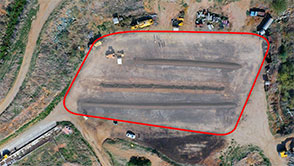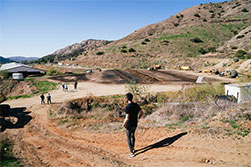 I'll serve as your theologian, teacher, pastor, and historical guide. And together, we will walk through the wonders of Christmas in this historical docudrama, discovering how each question surrounding the Nativity leads to answers. Written in the pages of Scripture and of history, these answers will deliver a thrill of hope to your loved ones and multitudes this Christmas season.
In collaboration with industry professionals from the motion picture industry and television, our seasoned production team will present a historical narrative of Christ's birth. We will shine a light on the meaning of Christmas through innovative and compelling visual storytelling.
Set Layout Concept Art
For more, read the First Look Producer's Notes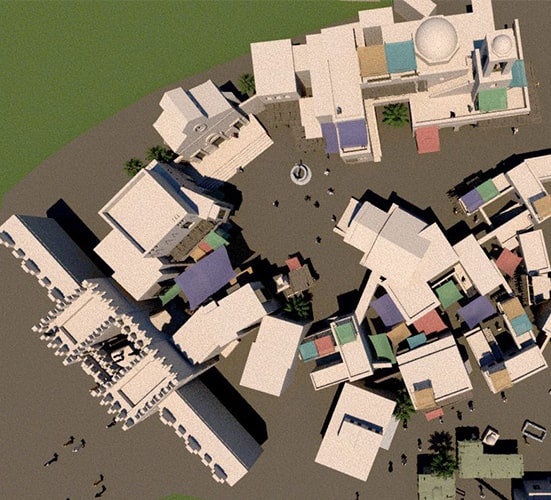 At a time when our culture is pushing Christ out of Christmas and turning December 25 into a secular holiday, I believe that Why the Nativity? is desperately needed—and will reach more people with the Gospel than any other Christmas special we have ever produced!
The enormity of this opportunity—the potential impact on millions who might be unreachable in any other way—could not be more apparent when I look at the doors God has been opening for us in advance.
Why Now?
Not only have we added Fox Business News and Hillsong to our broadcast lineup this past year, but we've also become the FIRST religious program on The History Channel—dramatically expanding our ability to reach secular audiences.
The historical aspect of Why the Nativity? will connect with The History Channel's history-loving audience in a timely and powerful way at Christmas.
Based on past experiences, we anticipate many other secular networks that refuse our traditional broadcasts will be willing to broadcast Why the Nativity? because of Christmas!
Our latest technology will allow us to produce Why the Nativity? in several different formats—a 30-minute TV special, an hour-long TV special, and a full-feature online streaming special. This flexibility will enable us to optimize our Bible Strong message for whatever time blocks or configurations are available.
These doors are wide open to us, by God's grace, to share the hope and meaning of Christmas with a world in need.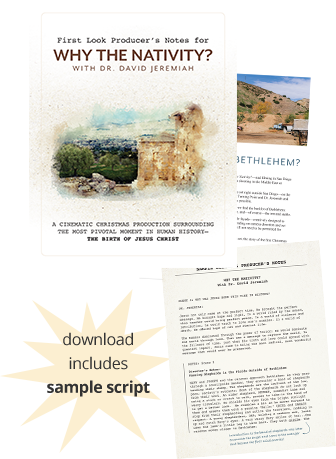 First Look Producer's Notes Download the first look at this cinematic Christmas production.
Download PDF
Why We Need Your Help
We need to race to meet the production schedule.
To start, we will build a life-size Bethlehem village set. Already, God has given us the perfect place. Our countrywide search led us to a farm just six miles from Turning Point's offices in San Diego, making it as convenient as possible to build and shoot there.
Construction must start almost immediately for filming to begin in mid-August. Production will continue through the end of September. Then, we will need to complete the post-production editing and effects before sharing it with the world at Christmastime.
I believe this is a God-given moment to step into an additional format of Bible teaching than we have done before. Your generous support and prayers can help make it possible.
Please pray about this opportunity to bless your family and friends—and reach the lost—with a message of hope this Christmas.
Yes, Dr. Jeremiah
I want to help you keep Christ in Christmas
!
Yes, Dr. Jeremiah
I want to help you keep Christ in Christmas
! I will:
1. Follow the Turning Point Studios Facebook group and Instagram account for updates from the film set of Why the Nativity?