Today's Devotional:
Aug. 5
The Best Laid Plans
Near the end of his third missionary tour, the apostle Paul stayed with his friend, Gaius, while he wrote the book of Romans. He told the Christians in Rome he was planning to visit them on his next trip. He intended to travel to Jerusalem, then to launch his fourth tour to Rome and on to Spain. He described his plans in depth in Romans 15.

Send me Dr. Jeremiah's Devotionals
Sign Me Up »
Please enter a valid email address
You've been successfully signed up!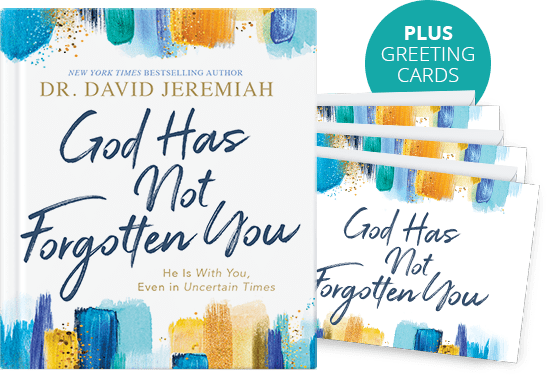 New Gift Book from Dr. David Jeremiah
God Has Not Forgotten You
For anyone going through challenging seasons of life, enduring it alone and feeling as if no one sees or cares makes it all the more painful and difficult to overcome. When we feel as if God Himself has abandoned us in a time of need, the anguish is indescribable.
But there is good news: God has not forgotten you! He is with you on your darkest days. He is with you now.
This beautifully appointed, full-color gift book is the perfect reminder that you are not alone, God deeply loves you, and He is working all things together for your good. Organized into ten sections, God Has Not Forgotten You will help you move beyond anxiety, change, worry, loneliness, health troubles, unanswered prayers, lost dreams, and more. It even includes three gift cards for you to share with others who could use a dose of encouragement.
LEARN TO STUDY THE BIBLE LIKE DR. DAVID JEREMIAH
Romans: The Written Word Journal
No doubt, you know the value of reading the Bible and listening to it. Perhaps you have even memorized portions of it. But have you ever written it down, word-for-word?
For many years, the first step in Dr. Jeremiah's weekly sermon preparation has included copying the central passage of Scripture word-for-word using pen and paper. This practice is rooted in one of God's commands to the ancient kings of Israel, and it has resulted in immeasurable blessings and insights in Dr. Jeremiah's own study time. Now he has created The Written Word Journal to guide you through this practice and study God's Word more effectively.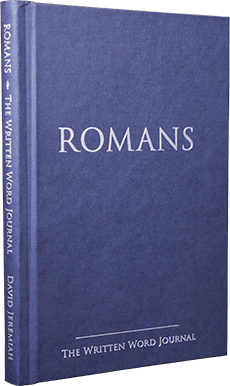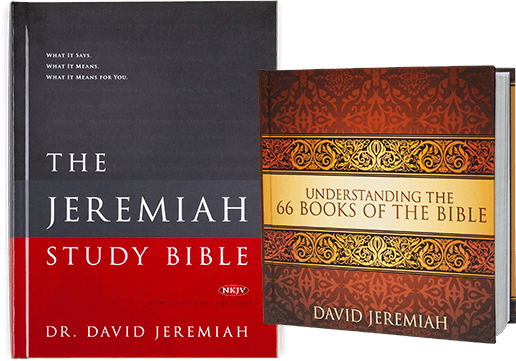 DIG DEEPLY INTO GOD'S WORD
Study the Bible With David Jeremiah
Let's be honest—studying the Bible is a challenge. After all, it's an entire library of books that were written thousands of years ago. While we have several modern translations available to help us, it can be tricky to recognize themes and understand what Scripture means for us today. That is why David Jeremiah released this powerful Bible study set.
Understanding the 66 Books of the Bible will guide you through the Bible with a key thought, verse, action, and prayer for each book. And for a more thorough study, The Jeremiah Study Bible offers extensive study notes, book introductions, charts, and articles to help you make sense of challenging passages. You'll gain a new perspective of God's Word and renewed confidence in your study time.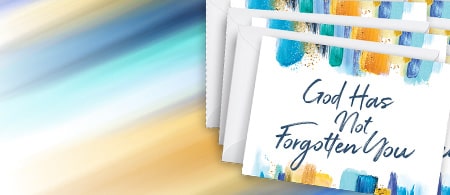 Exclusive Notecards: God Has Not Forgotten You
Who Could You Encourage Today?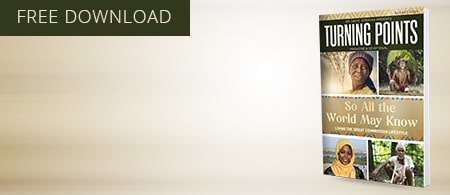 Turning Points Magazine & Devotional
Free: Download the August Edition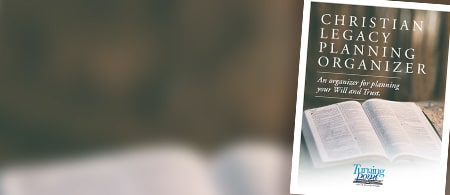 Free Planning Guide
Christian Legacy Planning Organizer
ON TURNING POINT RADIO THIS MONTH
Overcoming Loneliness
Loneliness touches almost every person's life at some point. It is the underlying anxiety of having no one close, a sharp ache in a moment of grief, and an empty feeling when there is no one to whom we can turn. Even heroes of the faith like Jeremiah, Joseph, David, and the apostle Paul felt lonely at times. But God has a cure. In our walk with Him, He offers friendship, a family, and a peace that passes all understanding.
Tune in to Turning Point Radio this month as Dr. David Jeremiah explores several passages of Scripture that can help us understand loneliness, learn how to deal with it, and develop a faith that endures even in the lonely times. If you cannot find the broadcast at a convenient time in your area, listen on our mobile app!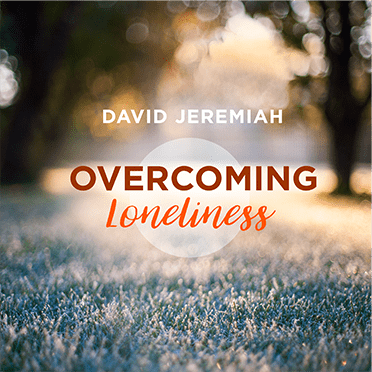 ROMANS VIII: THE GREATEST CHAPTER IN THE BIBLE
Watch the All-New Teaching Series on Weekend TV
Have you ever doubted your salvation? Or sought to understand salvation and the Holy Spirit more? One chapter, the greatest chapter in the Bible, offers answers to our questions about deep, biblical truths.
This month on Turning Point Television's Weekend Edition, Dr. David Jeremiah will continue his verse-by-verse explanation of the marvelous truths contained in Romans VIII. Everything you need to know about the Christian walk can be found in this powerful text—encouraging and enabling you to live your life the way God intended it to be lived.
Have you missed an episode? No problem! Scroll through our archives and watch it online.
FREE TICKETS AVAILABLE NOW
Join David Jeremiah LIVE This Fall!
Come discover the unchanging Word of God and enjoy an exceptional experience delivered in a safe, healthy manner. To ensure your safety, we are working closely with venues and local authorities to follow all health and safety guidelines.
Joining Dr. Jeremiah for this powerful night of ministry are Michael Sanchez, David Michael Jeremiah, and musical guests soon to be announced. Dates and locations for the fall 2021 tour include:
October 5: TAMPA, FL
October 7: JACKSONVILLE, FL
October 26: HOUSTON, TX
October 28: FORT WORTH, TX
Join others from your community at these dynamic events with Dr. David Jeremiah!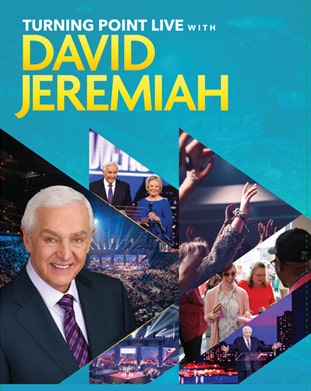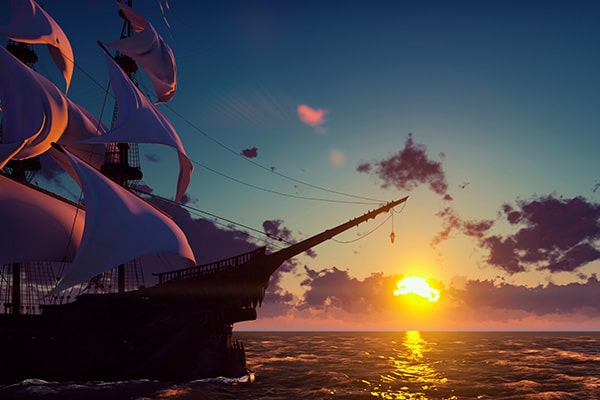 AN ONLINE EXCLUSIVE FROM TURNING POINTS MAGAZINE
The Tide Is Rising—The Port of Opportunity
Imagine you're the captain of an ancient ship preparing to sail beyond the horizon. Your ship—let's call it Turning Point—is at the dock, taking on tons of cargo and a full crew of eager sailors…. At the moment of highest tide, you shout the command, the moorings are cast off, and the ship leaves the harbor and sails safely into the open channels. It's the moment of op-PORT-unity for Turning Point.
Remember the old saying, "Time and tide wait for no man"? I believe the tide is rising in today's world, and we're looking at the greatest opportunities we've ever seen in our lifetime. We have clear sailing ahead when it comes to exporting the life-changing Gospel to millions of lost souls in distant ports all over the world.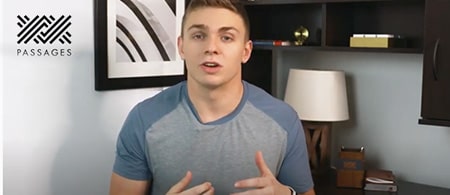 What Does It Mean to Revere God?
New Devotional From PassagesTV
David Jeremiah's Masterwork on Biblical Prophecy
31 Undeniable Prophecies of the Apocalypse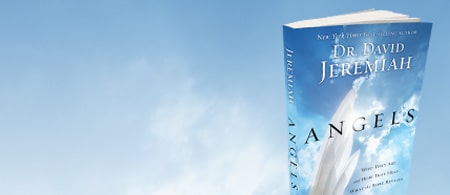 Who They Are and How They Help
What the Bible Reveals About Angels
IT'S LETTER MONTH—WE WANT TO HEAR FROM YOU!
From the Desk of David Jeremiah
If God has blessed you through the ministry of Turning Point, if this ministry has made a difference in your life, I would like to hear it.
Please take a few minutes, right now, to let me know how God has blessed you through Turning Point's ministry and how you tune in—which radio or television station, the app, or our website. Hearing from you will not only bless me, but it will also help me plan for future ministry.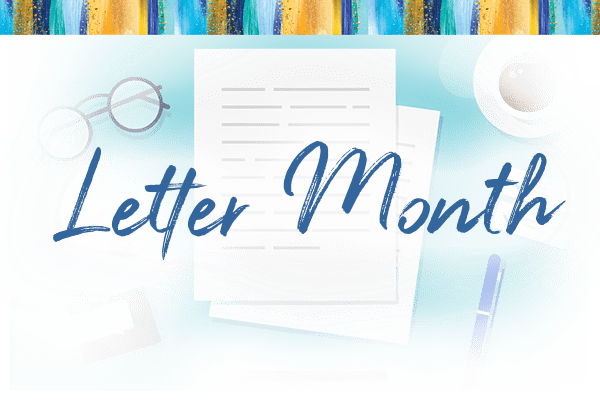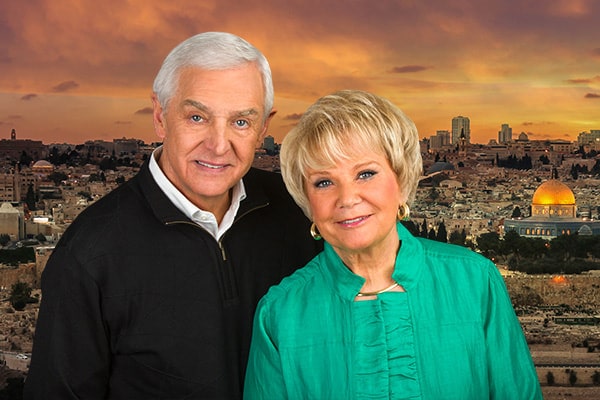 TURNING POINT'S 2022 HOLY LAND TOUR
Step Into Scripture With David Jeremiah
Time in Israel is much more than a vacation; it's a life-changing journey. Stepping through the cultural mosaic of beautiful cities and windswept ruins, the ancient history of Israel comes to life. Experience the world of the Bible as you discover the roots of your faith on this 11-day tour of more than 40 historic sites!
The tour includes teaching with David Jeremiah and worship at significant biblical sites, outstanding accommodations, international round-trip air transportation, ground transportation in Israel, hand-picked tour guides, and much more.
If you have ever wanted to travel to the Holy Land, make plans now to join Dr. and Mrs. Jeremiah for the experience of a lifetime. The travel dates are March 22–April 1, 2022.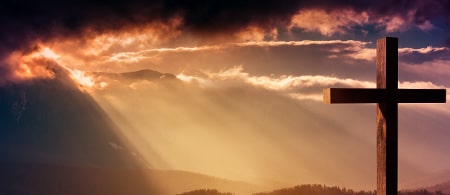 Curious About Christianity?
Learn to Follow Jesus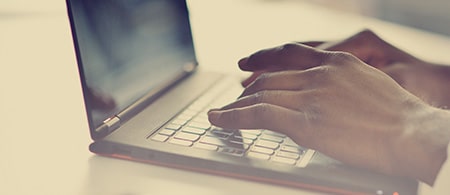 Has God Used Turning Point to Bless You?
Share Your Story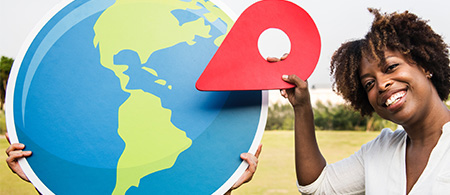 Find Turning Point Radio and Television on a Station Near You
Station Locator
New From Airship Genesis
Invasion of Rocket Cove
Rocket Cove is under attack! When a mysterious ship appears over the Genesis Exploration Squad's hometown, the people of Rocket Cove are thrown into a panic. What is this mysterious ship? Who is piloting it? And what do they want?
When this invading ship starts moving around the town, affecting its residents in strange—and hilarious—ways, the questions only multiply. And just when the squad thinks the worst is over, a giant robot appears! It is up to the Genesis Exploration Squad to solve the mystery and move forward without fear against The Invasion of Rocket Cove.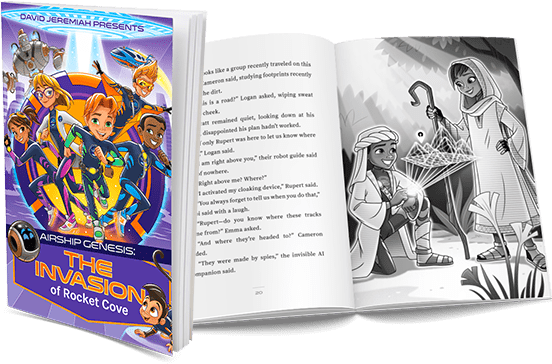 From Dr. David Jeremiah
Tour the Land of the Bible with Dr. David Jeremiah
After leading several trips to the land of the Bible, Israel has become one of my favorite places on earth. Donna and I are excited to return for another Turning Point Israel tour, March 19-29, 2019.
We'll visit historical places like:
Gethsemane
The Sea of Galilee
The Mount of Beatitudes
And more
I'll guide you through these sacred sites and others, teaching God's Word as we retrace our Savior's steps. Imagine seeing the same landscape Jesus saw, being baptized in the Jordan River, or singing at the Garden Tomb in Jerusalem.
These life experiences will change you forever.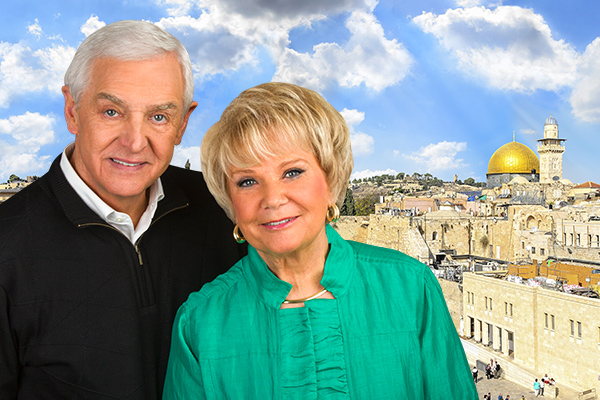 THANK YOU FOR YOUR SUPPORT OF OUR GOD-GIVEN MISSION:
Delivering the unchanging Word of God to an ever-changing world.