Today's Devotional:
Mar. 4
Defeating the Fear of Disease
Medical science has made it possible for humans to live longer. But ask the average senior citizen if that excites them and the answer may be, "Yes and no." Yes, we want to live longer but not while battling a disease. Disease remains a potential source of fear for all humans, regardless of age.

Send me Dr. Jeremiah's Devotionals
Sign Me Up »
Please enter a valid email address
You've been successfully signed up!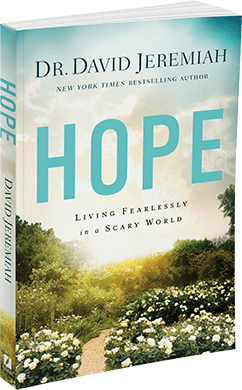 Take the Path to Fearless Living
Hope: Living Fearlessly in a Scary World
There's no question about it: we live in a world that is often a scary place to be. Many of us try to drown out our troubles with all sorts of distractions—anything to avoid the gnawing fear. In Hope, Dr. David Jeremiah makes the case that we don't need to live that way. There is an unshakable hope—a rock-solid foundation—that will never fail us.
At some point in our lives, all of us will find ourselves at the end of our rope, facing the storms of life: utter failure, financial collapse, debilitating illness, or heartbreaking loss. Hope explores each of these life-shattering scenarios and shows how a simple and profound trust in God can be the steady anchor for our souls.
Experience Victory Over Fear
Making Sense of It All
From global issues to personal challenges, few have managed to maintain their mettle in the wake of COVID-19. According to the YouVersion Bible app, FEAR was the most-searched word last year. Even now, an entire year after stay-at-home orders first swept through our world, life feels far from normal. We need time-tested strategies for dealing with our circumstances.
God is not silent on the topic of fear. His Word can equip us to move from fear to "Fear not!" It is a journey each of us must take again and again as new hurdles arise to block our way, and it is the life-giving truth at the heart of Turning Point's Making Sense of It All outreach campaign this month. Join us as we learn how to experience more hope and less fear.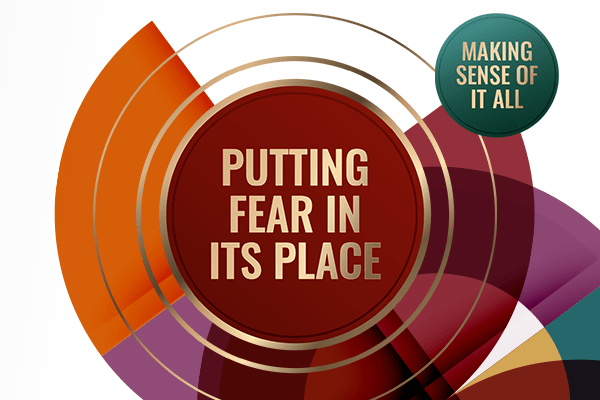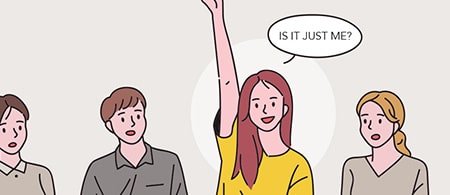 Making Sense of It All Online Content
Is It Just Me or Are Things Getting Worse?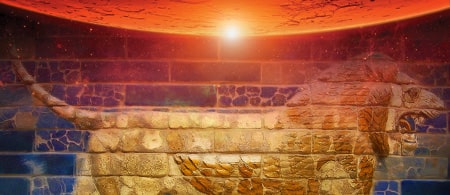 Study Key Prophecies From Ancient Babylon to Revelation
Agents of Prophecy Resources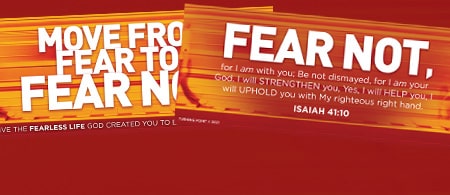 Move From Fear to Fear Not
Request Your Free Bookmark
INCLUDES FREE DIGITAL ACCESS TO THE MESSAGE SERIES!
Living Fearlessly Set
Is fear your constant companion? It doesn't have to be that way. We may not be able to hold back the tide of anxiety that wells up in the face of the unexpected, but we can overcome it. As Christians, God has given us everything we need to face down the most frightening and overwhelming obstacles in life.
Dr. David Jeremiah wants to help you tackle nine of life's most persistent fears. His Living Fearlessly Set will equip you with the tools to replace fear with faith in God's plans and promises. Not only does this set include printed materials and the message series on your choice of CD or DVD, but you will also receive automatic digital access to the message series in your online account.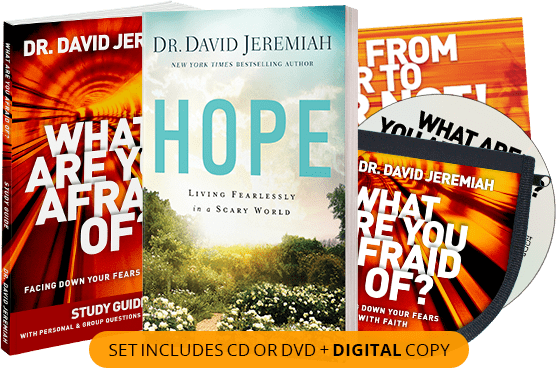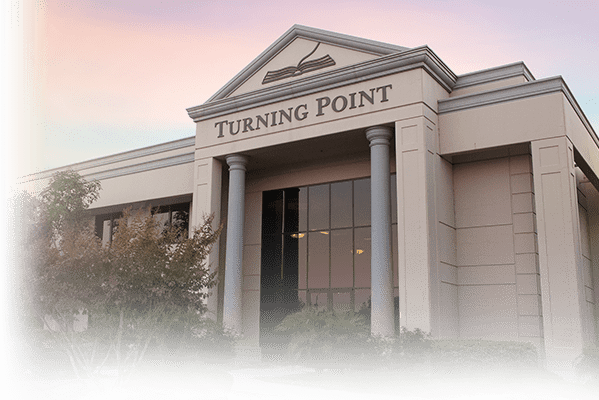 ARE YOU NEW HERE? WELCOME
Stay Connected to Turning Point
In a broadcast-based ministry, communication can feel one-sided or even impersonal, but it doesn't have to be that way. At Turning Point, we have developed a wide range of tools to help you stay connected with Dr. David Jeremiah's ministry and access Bible Strong teaching at any time of the day or night.
Spiritual battles don't always wait for the next scheduled broadcast or your monthly magazine delivery. If you need answers at 3 AM, we want to provide an insightful message from Scripture. If you are traveling and find yourself feeling alone, we want to meet you there. Because of the nature of our media platforms, it is difficult for us to measure the reach of Turning Point's ministry, but we have been contacted by people from 175 countries! Turning Point is committed to delivering the unchanging Word of God to an ever-changing world—and that includes you. Please take a moment to get familiar with all the ways you can find Turning Point and Dr. Jeremiah.
DISCOVER GOD'S PRESENCE AND PURPOSE IN YOUR TOMORROW
Are You Wondering What's Next in Your Life?
Your best days are not behind you! Now more than ever, God is ready to use you, and your greatest moment could be only a step away. It doesn't matter who you are or what your current situation may be—God will strengthen you, fulfill you, and partner with you to accomplish great things in your lifetime.
In Forward, Dr. David Jeremiah outlines the step-by-step action plan you need to move past where you are to where you want to be. No matter what season of life you find yourself in, your brightest day can be just around the corner. Take hold of it! Let go of the past and get out of your rut. It's time to run toward everything God has planned for the next phase of your life.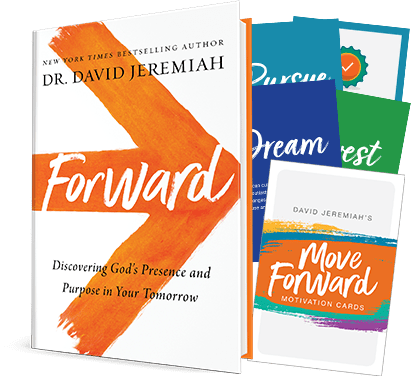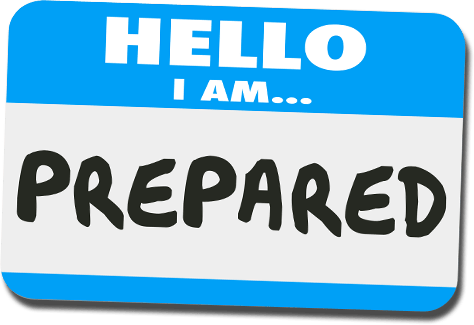 FROM THE MAKING SENSE OF IT ALL ONLINE EXPERIENCE
4 Practical Ways to Prepare for Christ's Return
One day, Jesus Christ will return to earth as the Lord of Heaven's Armies, and He will claim the most decisive victory this world has ever seen. All that is wrong will be made right. Satan will lose his grip on human affairs, and perfect peace will be restored. Not one of God's people will be lost. When Christ returns, God and His angels will celebrate all the way from heaven to earth. Matthew 16:27 tells us, "The Son of Man will come in the glory of His Father with His angels, and then He will reward each according to his works."
...We may not know the day or the hour of His return, but we can be ready. Let's look at four ways we can begin preparing for Christ's Second Coming today.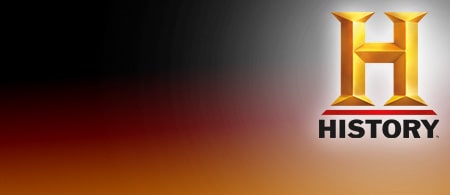 Watch Prophecy all Month on Weekdays!
Join Us on the History Channel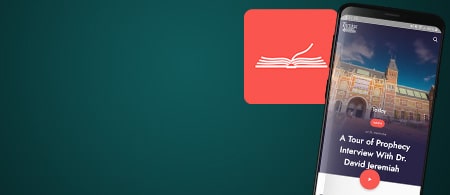 Stream Messages Anytime, Anywhere
Download the Free Turning Point App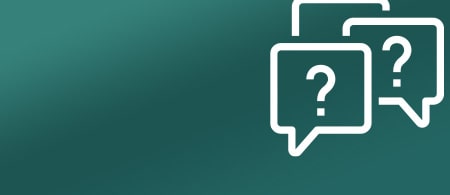 I Need Help Making Sense of _______________
We Want to Hear From You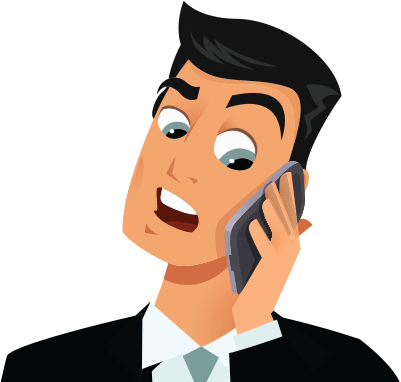 FROM THE MAKING SENSE OF IT ALL ONLINE EXPERIENCE
God, It's Me. Do You Copy?
It's one thing to call out to someone you know is there but who doesn't answer. There's obviously a reason for their silence. It's an altogether different matter not to know if anyone is there. Imagine how you would feel if you had no guarantee that God was there when you needed Him. The assurance that God is always present in our life is the Christian's deepest source of security. Even if He delays (Daniel 10:1-14) or His answer is "No" (2 Corinthians 12:7-10), that's okay. What isn't okay is a lack of assurance that God is always present in our lives.
Fortunately, that is not something about which we have to wonder. We will never have to wonder whether God is listening when we speak into the dark: "God, it's me. Are You there?"
AN ONLINE EXCLUSIVE FROM TURNING POINTS MAGAZINE
BRAVERY: Our External Response
If you know that fight–or–flight feeling, then you also know what fear feels like. And you also know, or will hopefully come to know, the amazing power of spiritual bravery—obeying God's call and trusting Him with the outcome…. If courage is internal, bravery is external. It's one thing to feel courageous on the inside, but it's another thing to be brave—to demonstrate the courage of one's convictions by acting bravely in the face of obstacles, threats, and risks.
Can one be courageous (internally) but not ultimately be brave (externally)? There is, admittedly, a fine line between the two. The best way to think of them is not "either–or" but as a progression: Bravery begins with courage, and courage is completed by bravery.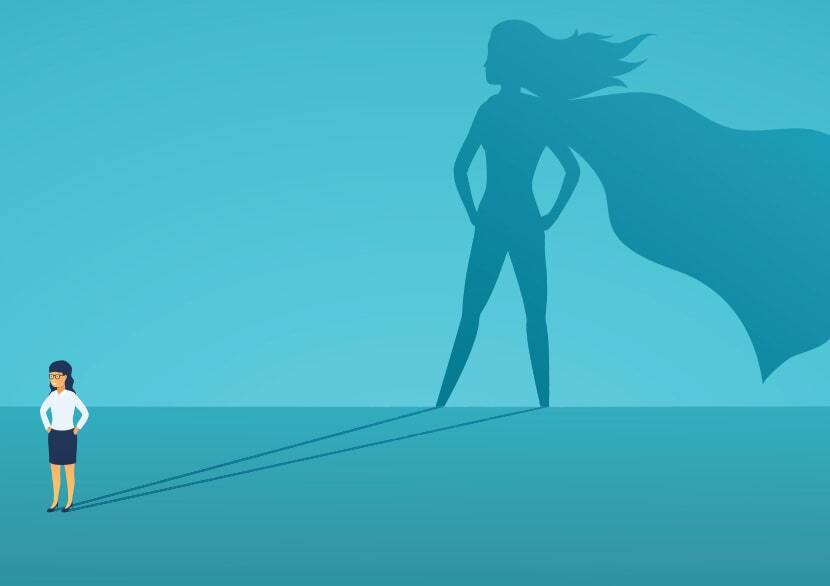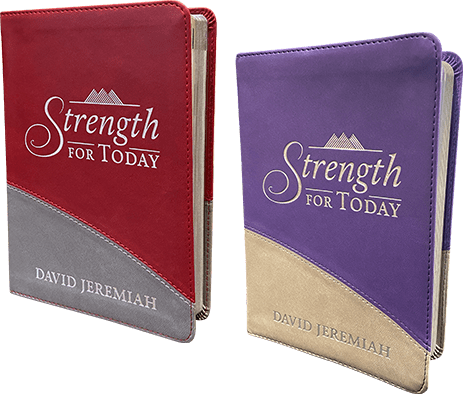 AVAILABLE IN BURGUNDY OR PURPLE
Strength for Today Devotional
As we turn to the Scriptures and study God's faithfulness to His people in the past, we can see that He never leaves His people without hope. Our hope isn't in the government, the health care system, or even in our jobs. Our hope is in our living and loving Savior who sees us and has compassion on us.
What we need is Strength for Today—and that comes as we draw closer to the Lord through our daily study of His Word, as we attend church with other believers, and we communicate to God through prayer. We are not without hope. We have hope because we know the One who holds the future. Access God's strength and discover hope for the future with Strength for Today!
SHOP OUR SELECTION OF STUDY BIBLES
A Bible for Every Generation and Every Situation
Feeling… interrupted? Crises like the coronavirus pandemic have a way of disrupting our life and forcing us to evaluate our priorities. What is truly important in times like these? The way we spend our time reflects our values. We can binge-watch our favorite TV shows, or we can plunge headlong into the life-changing, life-giving, transformational Word of God.
With Turning Point's selection of study Bibles for kids and adults, your family can gear up for spiritual growth during these unprecedented times.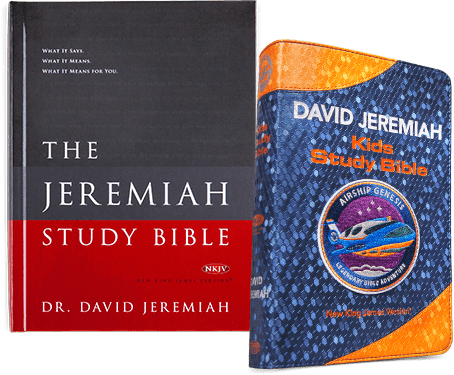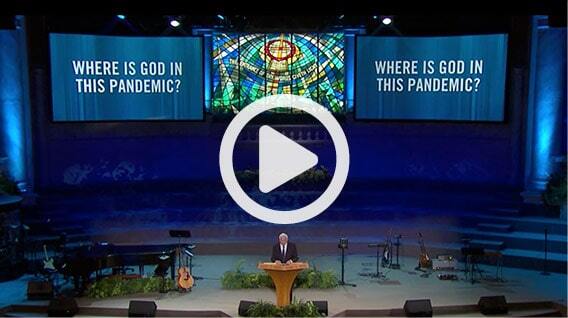 Facing the Coronavirus
Free Resources From David Jeremiah for Facing the Pandemic
Isolated and alone, many people are experiencing overwhelming fear and anxiety as they face an invisible enemy. In response to the coronavirus outbreak, Dr. David Jeremiah has prepared several messages of hope that are straight from God's Word. His goal is to encourage as many people as possible with biblical truth during these unprecedented times, so Turning Point is offering this series for on-demand streaming, free of charge, on our dedicated Facing Coronavirus page. We hope you will be blessed by them and share them with others!
New From Airship Genesis
Invasion of Rocket Cove
Rocket Cove is under attack! When a mysterious ship appears over the Genesis Exploration Squad's hometown, the people of Rocket Cove are thrown into a panic. What is this mysterious ship? Who is piloting it? And what do they want?
When this invading ship starts moving around the town, affecting its residents in strange—and hilarious—ways, the questions only multiply. And just when the squad thinks the worst is over, a giant robot appears! It is up to the Genesis Exploration Squad to solve the mystery and move forward without fear against The Invasion of Rocket Cove.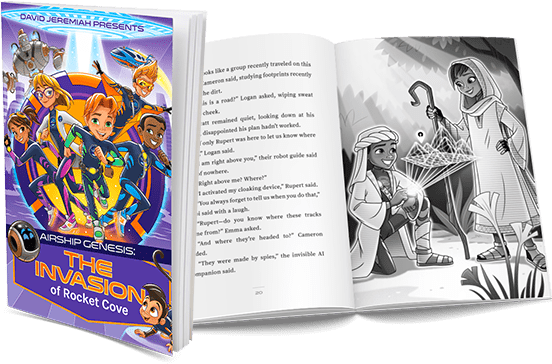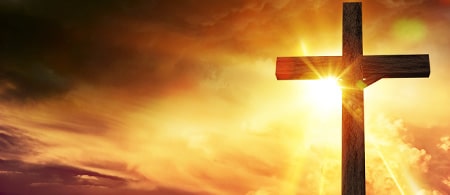 Simple Steps to a Personal Relationship With God
How to Become a Christian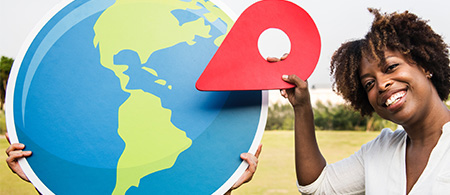 Find Turning Point Radio and Television on a Station Near You
Station Locator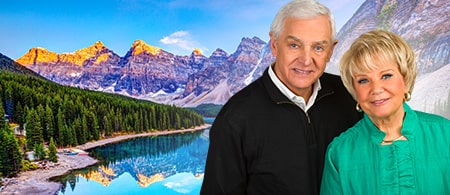 Leave the Planning to Us
Travel With Turning Point
From Dr. David Jeremiah
Tour the Land of the Bible with Dr. David Jeremiah
After leading several trips to the land of the Bible, Israel has become one of my favorite places on earth. Donna and I are excited to return for another Turning Point Israel tour, March 19-29, 2019.
We'll visit historical places like:
Gethsemane
The Sea of Galilee
The Mount of Beatitudes
And more
I'll guide you through these sacred sites and others, teaching God's Word as we retrace our Savior's steps. Imagine seeing the same landscape Jesus saw, being baptized in the Jordan River, or singing at the Garden Tomb in Jerusalem.
These life experiences will change you forever.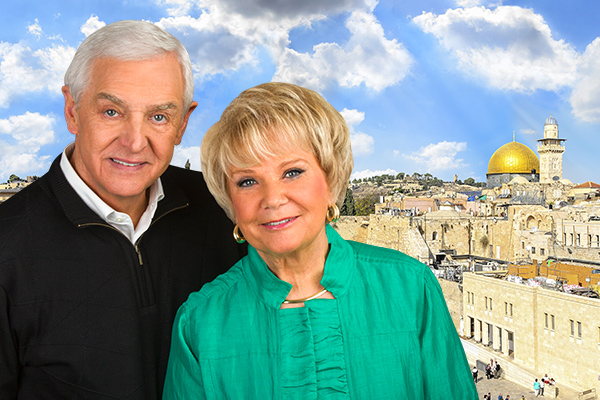 THANK YOU FOR YOUR SUPPORT OF OUR GOD-GIVEN MISSION:
Delivering the unchanging Word of God to an ever-changing world.