Today's Radio Broadcast
.
FEATURED ON RADIO
---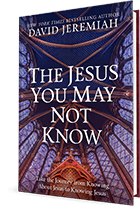 Take the journey from knowing about Jesus to knowing Him intimately.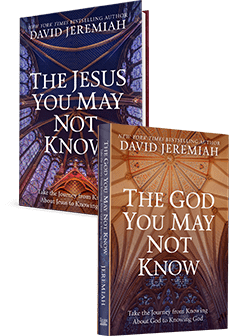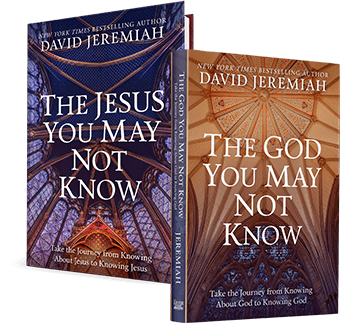 Embark on the Study of a Lifetime
The Knowing Duo Pack
The study of God, as revealed in Scripture, is the supreme study of a lifetime. Develop a fuller knowledge of God the Father and God the Son through these companion works by David Jeremiah.
Learn More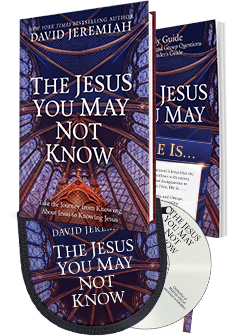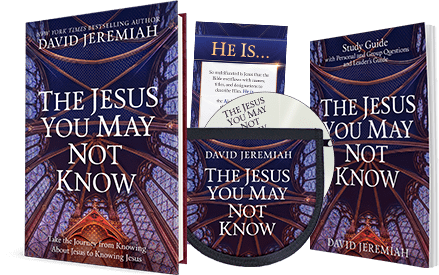 As Heard on Radio
The Jesus You May Not Know Set
Through five decades of teaching God's Word, David Jeremiah is still making new discoveries about Jesus! No matter how well you know Him, there is always more to learn. Study the Scriptures with Dr. Jeremiah through this comprehensive set.
Learn More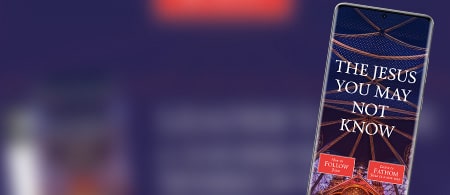 The Jesus You May Not Know digital resources
Access Exclusive Content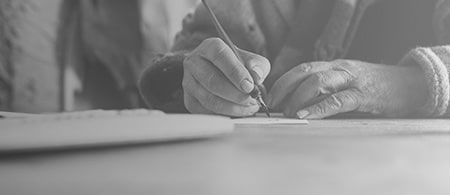 We want to hear from you!
Share Your Story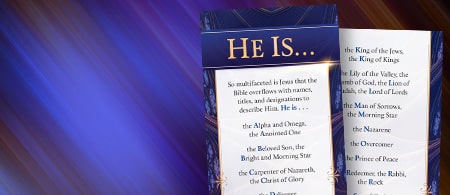 Who is Jesus? One name cannot possibly describe Him
Request Your Free Bookmark: He Is
An Excerpt from The Jesus You May Not Know
Meet David Jeremiah's Best Friend
I want to introduce you to the Man who has rescued me from death, filled me with hope, directed me in the decisions that have shaped my destiny, employed me in His global work, and is currently preparing a new home for me in a place where I'll never grow old.
He is my Mentor and Master, and it's a joy to introduce you to the Jesus you may not know.
None of us know Him as fully as we should... .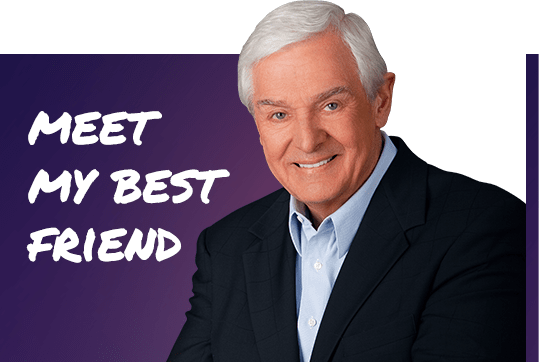 Watch Now!
What Is Jesus Doing in Heaven Right NOW?
Access this video and many others at the online destination for The Jesus You May Not Know. Through this site, Turning Point is offering a variety of exclusive digital resources to equip you on your journey toward a deeper relationship with Jesus. If you are new to exploring Christianity, visit the Follow section for materials to get started on your journey. For those who are further in their walk with Jesus, the Fathom section offers videos, articles, and other study tools to help you deepen your relationship with Him. We'll be adding new material throughout Dr. Jeremiah's teaching series, so check back often.
The Supreme Study of a Lifetime
The God You May Not Know
The study of God, as revealed in Scripture, is the supreme study of a lifetime. It lifts our thoughts, steadies our nerves, purifies our motives, expands our confidence, and strengthens our influence. It's the greatest subject we could ever study for God is the apex of all reality. Take the journey from knowing about God to knowing Him personally with the help of Dr. David Jeremiah.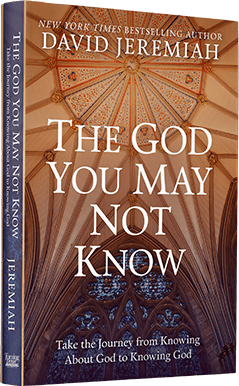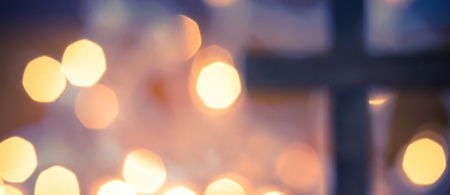 Foundations of the Faith
How to Become a Christian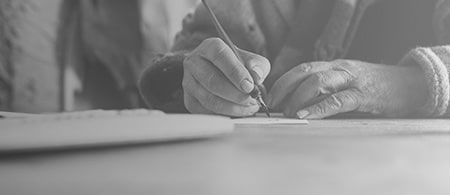 We want to hear from you!
Share Your Story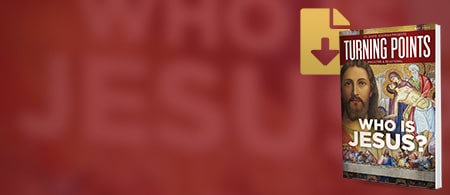 Engaging articles, daily devotionals, and more
Download a Free Copy of the May Issue
Ultimate Bible Trivia
How Well Do You Know the Bible?
Test your knowledge of the Bible with thousands of challenging trivia questions created by Guinness World Records Puzzle Master Timothy E. Parker. Some of the exercises may be easy for you, and some may be more difficult. However, they all have one purpose—to teach the Word of God and bring you to the highest level of Bible understanding and knowledge. Whether you attempt it alone or with family and friends, Ultimate Bible Trivia will teach, challenge, enlighten, and entertain you.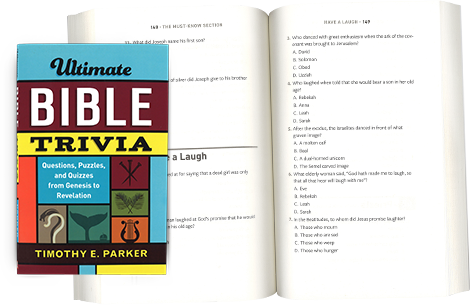 From the Living In The Age of Signs Website
5 Facts About the Second Coming of Christ
One day Christ will return to earth in all His glory as the Judge who will right every wrong in our world. This event is mentioned throughout Scripture, particularly in the New Testament. It will occur after the Tribulation, when Christ defeats the Great Dragon, and before His one–thousand–year reign on earth. Scripture reveals several details about Christ's return, but there is much we will not know until it takes place....